Company Name
SANKEN SETSUBI KOGYO CO., LTD.
Head Office
Kayabacho First Building, 17-21 Shinkawa 1-Chome, Chuo-ku, Tokyo 104-0033
Paid-in Capital
¥1,000 million
Number of Employees
Technical Staff 954
Clerical Staff 343
Total 1,297 (As of April 1, 2023)
Net Sales
¥82,717 million (FY 2023)
President and CEO
Eiichi Matsui
Construction Business License
(Toku-24) No.1879 by Minister of Land, Infrastructure, Transport and Tourism
Line of Business & Service
Plumbing Business, Architectural and Construction Business, Electrical Contracting Business, etc.
First-Class Architect Office Registration
No. 16996 by Governor of Kanagawa Prefecture
Company Profile
SANKEN SETSUBI KOGYO CO., LTD. is a leading provider of HVAC, commercial, residential and industrial plumbing. To provide a comfortable and eco-friendly environment for customers and for society as a whole, we develop new environmental technology based on our HVAC and plumbing & sanitation technologies.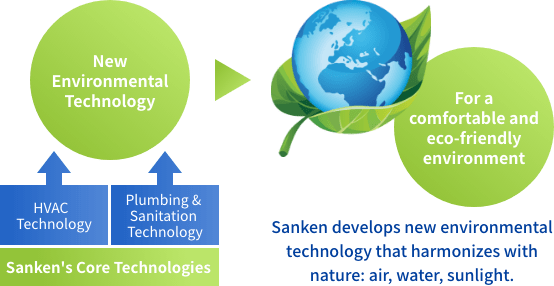 HVAC Technology
By using our deep knowledge, our technology and our ability to apply these flexibly, we have established an enviable track record across multiple fields.
Air Conditioning Systems
– Comfortable air conditioning
– Indoor ventilation
– Contamination control
– Smoke extraction
Industrial/Special Air Conditioning Systems
– Clean rooms
– Bio-clean rooms
– Biohazard facilities
– Constant temperature and humidity
– Refrigeration and cold storage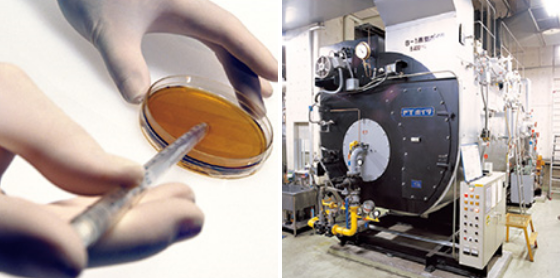 Plumbing & Sanitation Technology
At Sanken, we design, construct and maintain general water supply, drainage and sanitation systems and recycling systems.By reclaiming grey water using a drainage processing system, and also by rainwater capture, we can greatly reduce the demand for mains water.
Water Supply, Drainage and Sanitation Systems
– Water supply
– Hot water supply
– Drainage and ventilation
– Plumbing fixtures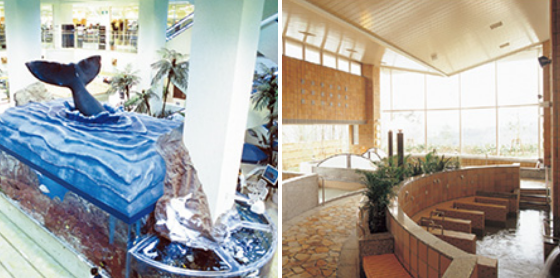 Fire Prevention Systems
– Fire hydrants
– Sprinklers
Water Treatment Systems
– Swimming pools
– Hot spring
– Water filtration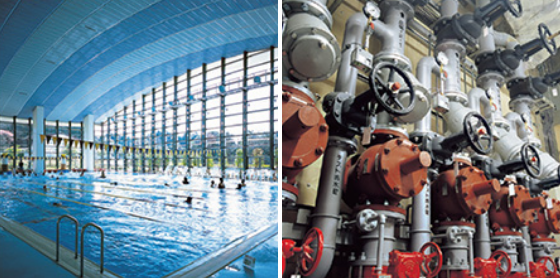 Industrial Facilities
Sanken considers energy saving, labor efficiency and reduction of our environmental footprint an important consideration with any construction; given the rise in cost of raw materials and the environmental concerns, we continuously strive towards zero-emissions facilities.
At Sanken, we make full use of current technologies and solutions to minimize the impact of industrial facilities by constructing energy-efficient buildings and minimizing waste through recycling. We offer advanced facility systems which match the needs of clients through design, construction and maintenance for clean rooms in the following industries:
・Semiconductor industry
・Precision industry
・Pharmaceutical industry
・Food industry
・Medical care
・Heating and cooling plants
・Water purification plants
・Industrial drainage processing plants
・Waste recycling plants